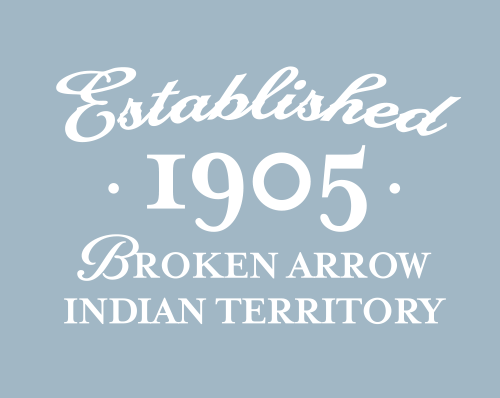 AVB was founded in 1905, two years before statehood. Arkansas Valley National Bank was the original name, named for the fertile valley of the Arkansas River that surrounded it. Threaded through the history of Broken Arrow, AVB has been a survivor, hunkering down during the hard times, while celebrating our successes along the way.

Through the continued leadership and involvement of the Brown-Kimbrough family, we've based our success on trust, stability, good old-fashioned hard work, and personal service to our valued customers.
Arkansas Valley National Bank (AVNB) was established, located on at 302 South Main Street (corner of Dallas & Main Streets) in Broken Arrow, INDIAN TERRITORY.

Oklahoma was admitted to the Union as the 46th state.

AVNB received a state bank charter and become Arkansas Valley State Bank (AVSB). 

Beginning of World War I.

G.A. Brown, founder, increased his involvement in the Bank, becoming Director.

The Depression and Dust Bowl Era Began.

Known for an incredible legacy of valued humanitarianism, trusted business acumen and exceptional integrity, Ivan Brown, son of founder, G.A. Brown, assumed the position of President of AVSB, serving the bank for 48-years.

Barbara Brown Kimbrough began her service as a Board of Director. Barbara's AVB Bank history dated back to the very beginning of the bank in 1905, when her grandfather, G.A. Brown, founded the Bank. Ivan Brown, her father, served as President of the Bank in the 1960's. Barbara was the third-generation of her family to serve AVB. Upon her passing in 2015, she left behind a legacy of generosity, integrity, honesty and kindness.

Virginia Johnson became Bank President, in a time when women seldom held positions in bank management and was one of the first women bank Presidents in the State of Oklahoma. She first joined AVSB in 1957 as a bookkeeper and was one of six employees, retiring in 1998 after 40-years of service.

After a 38-year banking career, where he served AVB as President, CEO and Chairman of the Board, Neely Kimbrough, son-in-law of Ivan Brown, retired. Kimbrough served on the Board of Directors until his passing in 2021. 

Kelley Kimbrough Rash was named Chairman of the Board, a role she continues to serve in today. First joining the Bank in 1975, Kelley is the fourth-generation of this family-owned Bank. 

After 98-years of serving Broken Arrow, AVSB opened its first branch at 121st and South Elm in Broken Arrow. 

AVSB celebrated 100 years of service. The same year as the Centennial celebration, the second AVSB branch, located at 51st and Mingo in Tulsa, was opened.

AVSB rebranded to AVB Bank, while still maintaining the same family ownership and dedication to local service.

A new two-story AVB Bank branch, with direct access from the Broken Arrow Expressway, was opened.

Ted Cundiff named President and Chief Executive Officer (CEO). 

The original AVB location, at 302 South Main Street in Broken Arrow, was closed and the Bank officially opened a new two-story facility at 322 South Main Street, remaining in historic downtown and heart of the Rose District.

The closure of the original AVB location created opportunities to explore development of the Brown-Kimbrough Center for Arts, Innovation and Creativity. AVB donated the property to the City of Broken Arrow and the property was deeded to the City in 2019. Demolition began in 2020 and the banked worked, piece-by-piece, to uncover, preserve and document 115-years of history of the original 1905 structure. The Brown-Kimbrough Center for Arts, Innovation and Creativity officially opened their doors in 2022, becoming a regional hub for innovation and creative arts incubation and production. 

Now, in its sixth-generation of family ownership and fourth-generation of active management, AVB Bank has four branches and an Operations Center. Bank assets have surpassed $466 million.




Pictured (l-to-r):  Ted Cundiff, President & CEO; Russell Brown; Sally Kimbrough Wilton; Georgeanna Thomas; Kelley Rash, Chairman of the Board; Cooper Rash, Vice President; and Topper Causby, Executive Vice President & Chief Lending Officer.

John Walker named Executive Vice President and Chief Digital Officer, the first Digital Officer in AVB Bank history. 




As AVB has expanded its digital footprint, Walker's expertise is integral to AVB's digital transformation and adoption of digital technologies across the organization.
117 Years
of Trusted Relationships and Community Commitment
Same Family
Ownership and Management Since 1905