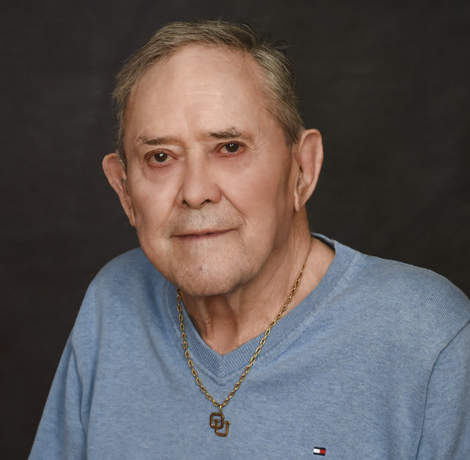 Neely Wilson Kimbrough was born in Amarillo, Texas, on Tuesday, October 14, 1930, to Morton William and Marjorie Alice (Neely) Kimbrough. He passed from this life on Saturday, October 9, 2021, at the age of 90.
Neely was the oldest of five children and the only boy with four sisters. He was raised by his mother and stepfather. He was a talented athlete in high school, playing football, basketball and running on the track team. He, also, was active in school drama productions at Hereford (Texas) High School. He graduated in 1949 and went on to spend one year at Rice University until he transferred to his beloved University of Oklahoma (OU), where he graduated with his bachelor's degree in geological engineering in 1953. He was recruited during his senior year at OU by Shell Oil Company and began his career with them for seven years.
He began his banking career with Arkansas Valley State Bank (AVSB) in 1962 as a lender. Named President in 1966 and Chief Executive Officer in 1984. He served as Chairman of the Board for 10-years, from 1990 – 2000, and remained on AVB's Board of Directors. He served as an AVB Board Member until his passing.
He was inducted into the 50-Year Club of the Oklahoma Bankers Association in 2019 for his 50+ years of service to the banking industry. Anyone who knew Neely, without a doubt, recognized that when they conducted business with Nelly, they became a personal relationship to him. He was invested in his customer's challenges and their successes. He was quoted as saying, "Banking is a people business, and trust is essential in building a relationship. I loved every minute of it!"
Ted Cundiff, President and CEO at AVB Bank said, "Neely was a friend and mentor to numerous employees at AVB Bank and a multitude of members throughout the Broken Arrow community. His life is to be celebrated for his great accomplishments during his tenure at AVB. He had a servant heart and followed that passion the same way that he has always done in business…one personal relationship at a time. He served this Bank for six decades and played a tremendous role in our Bank's history and growth. Neely Kimbrough leaves behind a significant legacy and will be greatly missed."
Neely was the father of three children, Kelley, Doug and Sally. He married Kathy Linell on March 30,1986. He loved working and raising cattle, good horse racing, sports, especially the OU Sooners, and played golf at both Meadowbrook and then Cedar Ridge Country Clubs, where at times served as Club President. He was also a member of the BA High School Quarterback Club. He and Kathy loved to travel and attend performances at the Tulsa PAC. His family described him as quiet, conservative and treated everyone with the same respect, was able to listen to everyone's point of view and remain objective throughout the process. He will be missed by all who knew and loved him.
In lieu of flowers, the family requests donations in Neely's name to:  the St. Jude Children's Research Hospital at www.stjude.org.
Those left to cherish his memory are wife, Kathy, of their home in Broken Arrow; daughters, Kelley Rash of Broken Arrow, Sally Wilton of Oklahoma City; sisters, Carlie Warren (Don) of Dimmitt, TX, Patsy Hart (John) of Piney Flatts, TN; four grandchildren, Sara, Cooper, Henry and Samuel; two great-grandchildren, Lottie and August; and many nieces, nephews and cousins.
Back to top