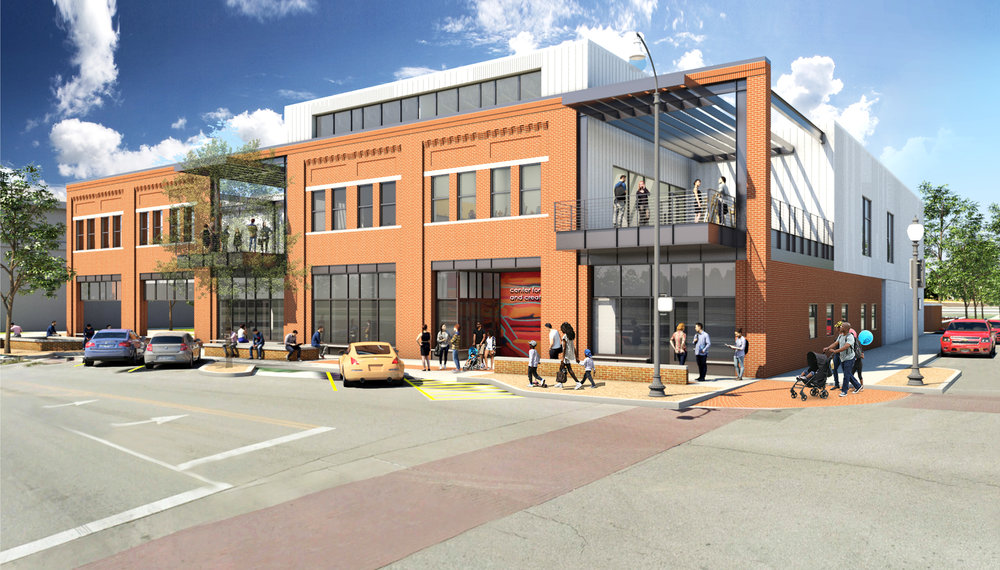 Creative Arts Center
A Gathering Place for Local Artists and "Destination Point" for the City of Broken Arrow.

Center for Arts, Innovation and Creativity. Becoming a Reality.
AVB Bank and the Brown-Kimbrough family have always been advocates for the arts, education and economic development of Broken Arrow. So, when, almost a decade ago, the idea of a creative arts center arose, AVB was at the forefront of development of what has now been designated as the Center for Arts, Innovation and Creativity.
The original concept was incorporated into a City of Broken Arrow needs assessment and was ultimately approved by the residents of Broken Arrow. 
In 2014, ground was broken for a new AVB Bank location to be constructed in the "Heart of the Rose District" at 322 South Main Street, on the corners of Main and El Paso Streets. As AVB Bank was scheduled to begin construction on a new downtown facility, the closure of the original AVB location created opportunities for Broken Arrow and the Rose District to explore the development of the Center at 302 South Main Street (corners of Main and Dallas Streets). AVB offered the property to the City of Broken Arrow, and, bond funds were, again, approved by voters, as the proposed site for the Center was altered. 
AVB's downtown drive-thru structure and lanes were demolished and the property was deeded to the City in 2019.
When demolition began on the structure located at 302 South Main Street, it was initially disassembled with much care. The original 25-foot corner (Dallas and Main Streets) was suspected to house some of the original 1905 structure...and the Bank worked, piece-by-piece, to uncover, preserve and document 115-years of history. Demolition was completed during summer of 2020.
While AVB history was being preserved, the vision of the Center was becoming a reality - to be the regional hub for innovation and creative arts incubation and production. The belief is that the Center will be a true "destination point" for Broken Arrow citizens and citizens of surrounding communities, as well as bring people from across the country to Broken Arrow for the unique creative opportunities which may not be available otherwise. And, AVB Bank is proud to be a part of this project and excited for the impact it will have for our City.
It is anticipated for Phase One to include a gallery exhibit hall, film and sound studio, workshop areas and classrooms for ceramic, sculpting and other arts, catering kitchen and gift shop. Phase Two is expected to include a large event space and additional project classrooms.
Vision 2025 funding is allocated toward design work.  Funds for construction will be provided by a combination of sources. 
 Click to learn more about the Center:  Center for Arts, Innovation & Creativity.
Back to top